Offline thickness & dimension gauge
Product Detail
Product Tags
One-key output of judgment result, thickness measurement and determination;
Thickness of left, right, head and tail thinning areas of single-/ double-sided diaphragm;
Dimension measurement and determination;
Left & right diaphragm width and misplacement;
Head & tail diaphragm length, gap length and misplacement;
Coating film width and gap;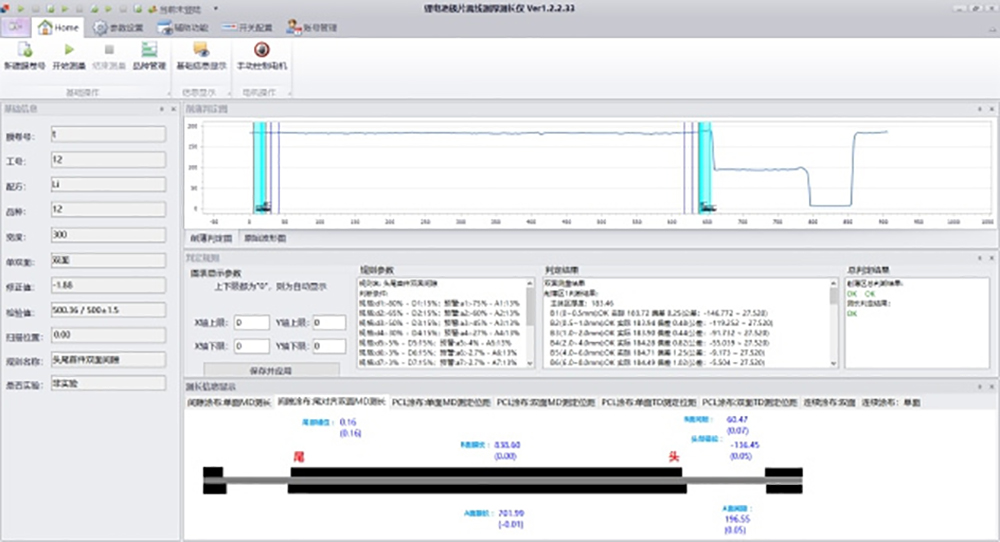 Principles of measurement
Thickness: comprised of two correlative laser displacement sensors. Those two sensors will make use of triangulation method, emit a beam of laser to the surface of measured object, measure the upper & lower surface position of the measured object by detecting the reflective position, and calculate the thickness of the measured object.
As shown in the figure below:electrode thickness C=L-A-B
Dimension: drive the synchronized CCD camera/ laser sensor through motion module + grating ruler to run from electrode head to tail, calculate the longitudinal length of electrode coating area, gap length, and length of displacement between head and tail of side A/B etc.

| | |
| --- | --- |
| Name | Indexes |
| Scanning speed | 4.8m/min |
| Thickness sampling frequency | 20kHz |
| Repetition accuracy for thickness measurement | ±3σ:≤±0.5μm (2mm zone) |
| Laser spot | 25*1400μmHz |
| Dimension measurement accuracy | ±3σ:≤±0.1mm |
| Overall power | <3kW |
| Power supply | 220V/50Hz |
Shenzhen Dacheng Precision Equipment Co.,Ltd (hereinafter referred to as "DC Precision" and "the Company") was founded in 2011. It is a hi-tech enterprise specialized in research, development, production, marketing and technical services of lithium battery production and measuring equipment, and mainly offers intelligent equipment, products and services to lithium battery manufacturers,including lithium battery electrode measurement, vacuum drying, and X-ray imaging detection etc.Through development in the past ten years. DC Precision is now fully recognized in the lithium battery market and moreover, has done business with all TOP20 customers in the industry and dealt with over 200 well-known lithium battery manufacturers. Its products have the market share ranking top in the market steadily and have been sold to a number of countries and regions including Japan, South Korea, USA and Europe etc.
---
Previous:
3D profilometer
Next:
Laser thickness gauge
---
Write your message here and send it to us